This week is the Dutch week of fall prevention. During this week VeiligheidNL, together with national partners (including KBO/PCOB, BuurtzorgNL, and KNMP) and local care professionals pays some extra attention to awareness and dissemination of knowledge about fall prevention. Kepler Vision Technologies creates a solution for falls in healthcare, the Kepler Night Nurse. Therefore, we cannot be left behind.
Skipr published online: Opnieuw meer ouderen gevallen in of om huis. It states that in 2019 109,000 people aged 65 or older ended up in emergency care in the Netherlands. Fall prevention is therefore very important!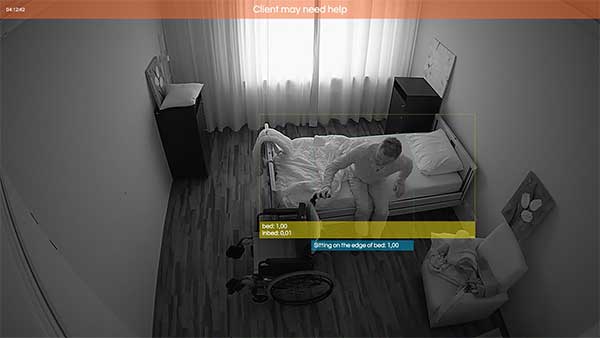 Many people think that the Kepler Night Nurse is a system that can only be used for fall detection. The Kepler Night Nurse is indeed software that can detect a fall, but not only that. The software recognizes many more situations, and can also send support alarms when the client is about to fall. A fall can then be prevented by the care provider. Kepler Night Nurse is therefore also intended for fall prevention.
An example: If a client has difficulty walking, or is unable to get out of bed due to a recent operation or a neurological disorder, the software can send an alarm when a client is sitting on the edge of the bed or has just gotten up. This way, the Kepler Night Nurse can also be used as a fall prevention solution. These alarms are already in use today at some of our clients' facilities!
Currently, our AI is most commonly used in elderly care. Falls are a major problem here, as clients are no longer as mobile as when they were young. However, the existing technology gives a lot of false alarms, so that a lot of time is spent dealing with these alarms and no time is left to keep people mobile. Besides, due to the current Corona Crisis, the elderly stay indoors much more, making it increasingly difficult for them to stay fit and mobile.
Of course, not all of the elderly care clients need additional fall prevention alarms. Many of the elderly do not want to stay in bed all day. That is why the alarms can be set per room so that the right alarm goes off to the right person. Of course, an alarm always goes off if someone falls, and the Kepler Night Nurse doesn't miss a single fall.