Kepler Vision Technologies CEO Harro Stokman has been invited to speak at the Future of AI virtual event on July 28th, 2020. This event, hosted by magazine people and computers, usually takes place every half year. Because of the Coronavirus, the edition of this summer will be completely virtual.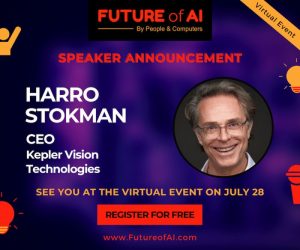 This summer's edition, which can be found here, will host Kepler Vision Technologies being a former winner of the start-up competition.
Last year, Kepler Vision Technologies has won the start-up competition! On December 11 and 12, 2019, Harro traveled to Berlin, Germany to take part in the start-up competition in the category Artificial Intelligence. Back then, People and Computers hosted the event Future of AI for the third time. Future of AI is Israel's leading conference on Artificial Intelligence. The start-up competition is an important part of the event, where startups in fintech and startups in artificial Intelligence try to win over a jury of experts in these fields by presenting their company. The prize back then included $100.000 in cloud credits.