The Kepler Vision Technologies software monitors video and has the unique ability to recognize body movements and actions – detecting if someone has suffered a fall or becomes distressed, for example – so that medical attention can be facilitated as needed. The product is called the Kepler Night Nurse and obtained its second Trusted Product Maintainability certificate.
Kepler Vision Technologies knows that better code means better business and puts code quality at the center of its development practices. And that's a rarity in the machine learning industry. Software quality has long been an issue there.
Harro Stokman is founder and CEO of Kepler Vision Technologies. He knew that the ISO 25010 Trusted Product Maintainability certificate would serve as a valuable differentiator for his company's software. In 2019 he turned to SIG for the company's first certificate, as it's the only organization in the world accredited by the issuing body TÜViT to evaluate software systems for the certification. Stokman decided to obtain a second certificate in 2021.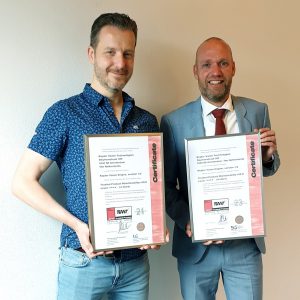 The Challenges
Kepler Vision Technologies was looking for:
A competitive differentiator to stand out in an industry plagued by poor code quality
A demonstrable way to give prospects, existing customers, and potential investors the confidence that its software is of top quality
An effective way to internally reinforce its commitment to code quality among its developers
The SIG Solution
SIG evaluated the technical quality of the source code of the Kepler Vision Engine, as required by TÜViT before issuing the certificate. The SIG consultants drew the following conclusions, just as they did during the 2019 certification process:
The overall quality level of maintainability for the Kepler Vision Engine was 4 out of 5 possible stars. That score is well above the market average of 3 stars.
The Kepler Vision Engine employs a modern architecture, with several components that communicate effectively through clearly defined interfaces. Those components are implemented in various technologies, mostly Python and Java, with shared quality standards.
Based on SIG's findings, TÜViT awarded Kepler Vision Technologies with the ISO 25010 Trusted Product Maintainability certificate for the second time. The certificate is available here.
The Benefits
Now a proud two-time holder of the certificate, Kepler Visions Technologies continues to realize the following benefits:
Competitive advantage as its prospects and existing customers compare and select pre-developed software solutions.
Validation from leading software evaluation bodies that its software is not only the first-ever in the world but also has rock-solid technical quality.
A stronger internal culture around code quality, with even clearer guidance for developers in creating the products they build.
An enhanced brand reputation that demonstrates its valuable software development skills and capabilities as well as an unwavering commitment to sound development practices.
"Adhering to our code quality standards greatly helped us in developing our embedded vision software for edge devices. Our second TÜViT certificate is proof we did it right. This validation of quality by SIG, an independent third party, boosts the morale of the Kepler Vision team, especially in times of corona."
Harro Stokman, Founder & CEO at Kepler Vision Technologies.
SIG also reported on the second certification of the Kepler Night Nurse. Read their article here!