First-ever body language recognition software
During his inaugural lecture on video intelligence on Friday, 14 December, Cees Snoek, professor of Intelligent Sensory Information Systems, will give a preview of the world's first-ever body language recognition software. The software, developed by UvA spin-off Kepler Vision Technology Ltd, 'looks' into videos and recognises a human's body language, body poses and actions.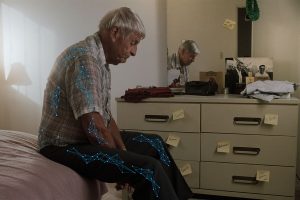 Human body language can only be understood if you can visually recognise someone's gestures, posture, eyes and movement. This applies to both people and computers. Until now, automated visual monitoring that identifies what people are doing in video footage did not exist. Kepler is working on software for recognising body language in moving images, with a focus on applications in care for the elderly. This would make it possible, for example, to monitor whether someone is eating and drinking enough or is at risk of becoming socially isolated. The software can also distinguish between someone lying on the floor because of a fall and someone lying on a coach to rest. The software is meant to lend support to healthcare workers in carrying out their supervision duties.    
Impact
'Video intelligence brings together computer vision, deep learning and artificial intelligence and is developing rapidly. In the near future, this will make it possible to automatically interpret every video image much better and way quicker than any human, says Snoek, who is also Chief Scientific Officer at Kepler.
'There are numerous applications where this completely new technology will have an impact, ranging from security to retail. However, our specific focus is on the elderly', says Harro Stokman, founder and CEO of Kepler. 'The software was developed in response to our ageing population, our desire to live independently as long as possible, all under the constraints of a shrinking caregivers workforce.
Knowledge valorisation
Kepler Vision Technology Ltd. was founded on 2 January 2018. One of the partners in the company is UvA Ventures Holding.
Kepler's new software will officially be launched during the second week of January at the Consumer Electronics Show, an annual trade show held in Las Vegas (US).