Next Thursday, the Kepler Vision Experience Center is opened. Rocking Robots and WijBrabant have written an article about it:
Kepler Vision Technologies today announced the creation of the Kepler Vision Experience Centre in Eindhoven. This facility will be used to demonstrate the unparalleled usefulness of Kepler Vision's proprietary computer vision monitoring software, and how it can make the lives of patients and care staff easier.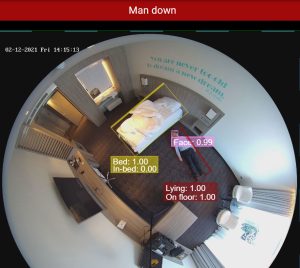 The Kepler Night Nurse being demonstrated is designed to immediately alert staff whenever it detects that patients have fallen, are experiencing physical distress, or in the case of medical facilities – have wandered into areas they are not supposed to. Its body positioning recognition means that individuals receive the attention they need the moment they need it, and only when they need it. Its implementation reduces both unnecessary disruptions to patients' lives, and the time wasted by care staff in responding to false alarms generated by alternative monitoring solutions.
To demonstrate this, the Kepler Vision Experience Centre features a range of example environments where the Kepler Night Nurse can be deployed, including a care home room, home bedroom, home living room and a hallway. The centre will be using the most cutting-edge version of the Kepler Night Nurse, and Kepler Vision's newly deployed smart sensors. The facility will also be used for training the solution's proprietary machine-learning algorithm for future added functionality.
Dr. Harro Stokman, CEO of Kepler Vision Technologies, said: "The new Kepler Vision Experience Center has been designed from the ground up to make clear the benefits of computer vision in looking after the wellbeing of patients in care environments. It is a vital tool for us as a business to demonstrate the advantages our cutting-edge solution can provide for both patients and care staff. Given the current care home staffing crisis it is even more important than ever that decision-makers in the healthcare sector can try out new technologies in as close to real-world situations as possible, so they can be sure it will reduce the strain on care staff without adding unnecessary complexity to their roles. We look forward to showcasing the latest innovations in patient monitoring solutions to medical and care professionals of all levels in the months to come"
Make an appointment. Discover the Kepler Night Nurse!