Harro Stokman, CEO and founder of Kepler Vision Technologies wrote an article that is published on IoT Now: "IoT can solve the care home crisis – but better privacy education is essential." The topic of the article is how the Internet of Things can contribute in the care home crisis, and what role privacy and security play. The start of the article can be found below.
For the full article, click here.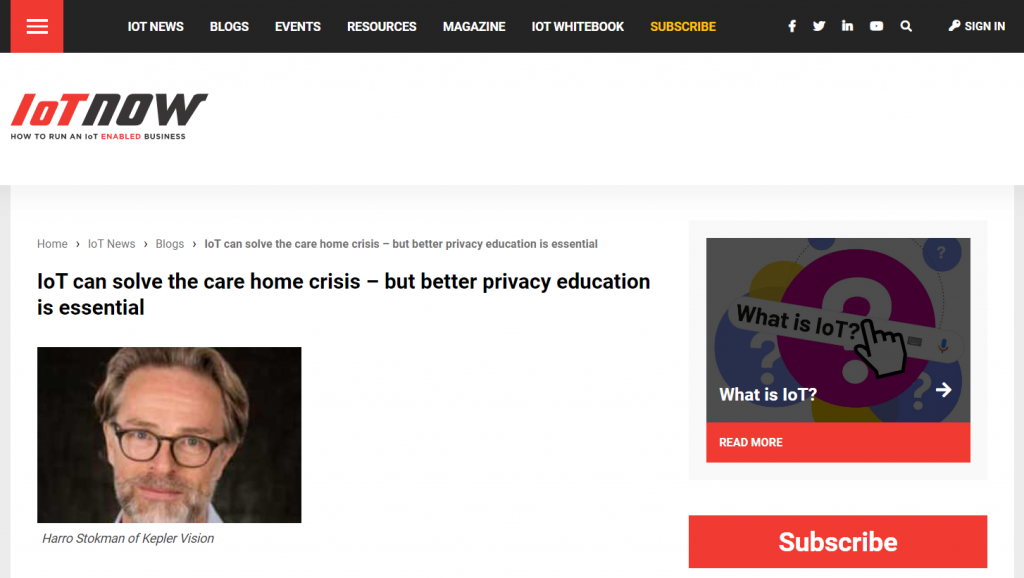 We are all getting older, says Dr. Harro Stokman, CEO and founder of Kepler Vision. Not just on an individual level, but the combination of falling birth rates and longer lifespans mean that the proportion of old people versus young people is higher than it has ever been. While this is a great achievement on the part of the medical and social care industries, this shift comes with its own set of problems.
A growing elderly population puts extra pressure on housing, long-term social care, and income security and healthcare systems. This is compounded by the fact that elderly care is intensive for nurses and other care staff, with many skilled workers ending up overworked. Case in point – in the UK, the care sector has the highest staff turnover rate of all sectors, with one in three workers leaving it every year.
The Internet of Things (IoT) has huge potential to relieve some of this pressure, and to provide care services that can improve the quality of life for both patients and staff – while still balancing the all important priority of preserving the dignity and privacy of those it helps. We can already see plenty of examples of IoT assistance being used for elderly care in both residential homes and increasingly in care-home environments, through systems that employ vital signal sign monitors, smart wearables, audio–video sensors, smart devices, and smart TVs.
Would you like to read the full article? Click here.