Improve elderly care with the Kepler Night Nurse
The Kepler Night Nurse is care software that 'looks' into live video streams of optical sensors and can interpret body language and human activities of clients. For example, the Kepler Night Nurse recognizes when a client has fallen or has difficulty leaving the bed. If a client has been in the bathroom for too long or is going to wander and leaves the room, the Kepler Night Nurse recognizes that as well. In these situations, the innovative care software sends an alarm in the form of a text message to the nurse. As a result, caregivers do not need to enter the client's room unnecessarily to check. During the day, but especially at night, this care software provides a considerable work reduction.
The care software replaces existing home automation or domotics systems that generate many false alarms, without increasing the privacy risk. This is made possible by using Computer Vision and Machine Learning. Automatic reports can also be made of all registered activities. This further saves the care provider time and can be used to make a medical or psychological diagnosis and in drawing up the care plan.
The different product packages of the Kepler Night Nurse are described below with the functionalities offered:
Sitting on the floor detection
In/out of bathroom recognition, longer than 15 min in bathroom warning (road map)
In/out of bed recognition, longer than 15 minutes out of bed warning
Sitting on the edge of the bed recognition, longer than 5 minutes on the edge of the bed warning
Multiple people in room detection (road map)
Integration with care provider phone
Automatic software updates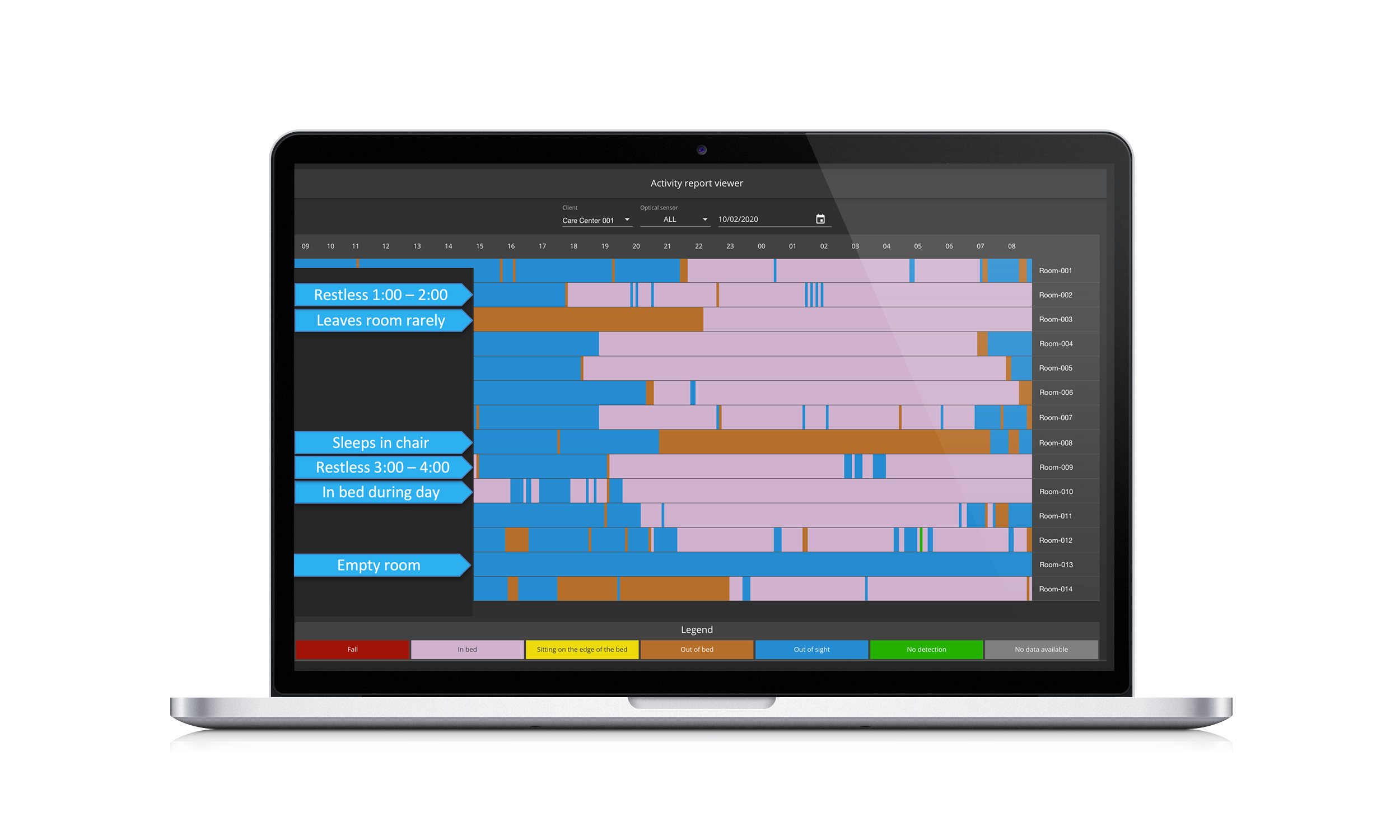 Important Benefits
Health gains through detection of balance problems.
Improves elderly care quality.
More client

privacy.

Lower work pressure.
More rest and higher job satisfaction for nurses.
Reduces surveillance tasks and false alarms to 1 false alarm, per room, per 186 days.
New functions do not require extra hardware.
Allows remote assessments of abnormal situations.
 A scalable, flexible, and cost-effective solution.
Replaces existing domotics (mat sensor, panic button).
The ability of Night Nurse to improve care quality and nurse job satisfaction is clear, but the question of client privacy remains. Currently, care workers are needed to check into clients' bedrooms throughout the night, a task that is disruptive and invades client privacy. The Kepler Night Nurse alternatively can provide the same coverage of the wellbeing of clients but simultaneously avoids invading their privacy and disturbing their sleep.

The alarms are intentionally sent as a text message, without video. This also increases privacy. Film fragments of clients cannot be shared. The Kepler Night Nurse reduces the number of false alarms that traditional home automation sends, so if an alarm is generated by the Kepler Night Nurse, it is always worth the effort to visit the client.

The Kepler Night Nurse is completely GDPR compatible and there is no longer any privacy breach in the rooms of the clients.
Night Nurse Messages
The Night Nurse can recognize multiple situations and sends an appropriate message about these. Nurses are then immediately notified of what has happened. To increase privacy, the Kepler Night Nurse never forwards images or video fragments. The client is vulnerable, and that should be shared as little as possible.
Some examples of these messages are:
"Client is out of bed longer than 15 minutes"
"Client is has been longer than 10 minutes in the bathroom"
"Client sits 2 minutes at the edge of the bed and might
need support getting out of bed"
"Client is restless"
"Client leaves the room"
 "Client waves for help"
"Another person in the room"
"Client sits on the floor"
 "Client has fallen"
These messages can all be integrated into standard messaging systems. All interfaces are supported.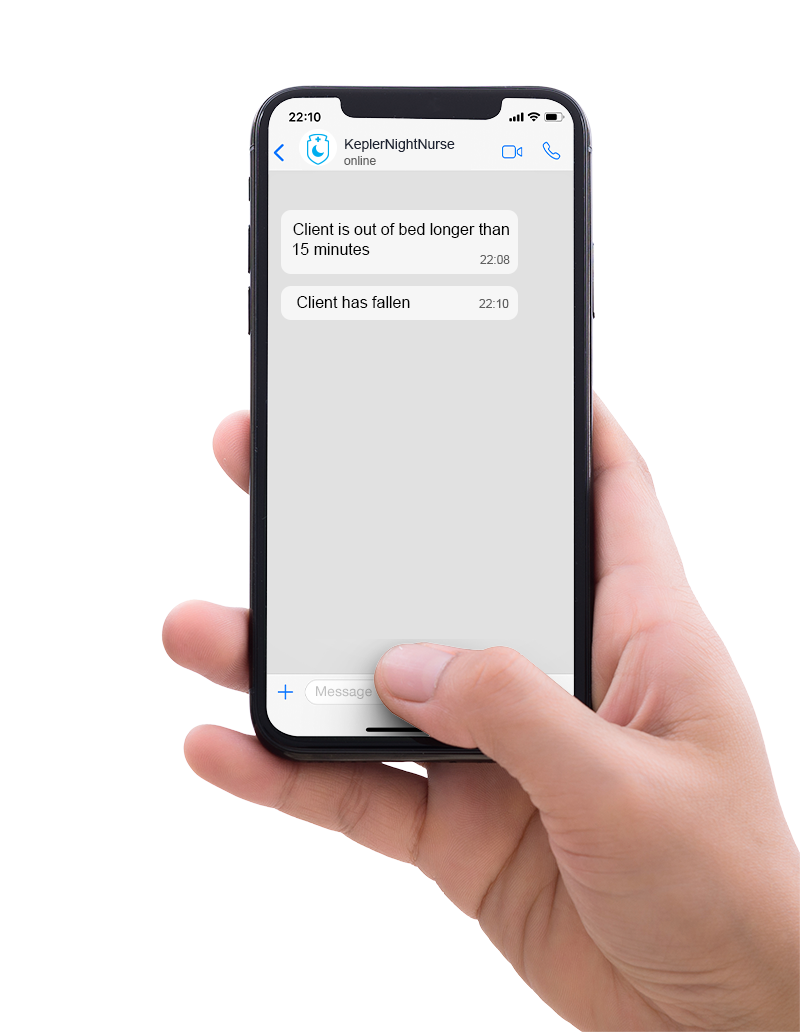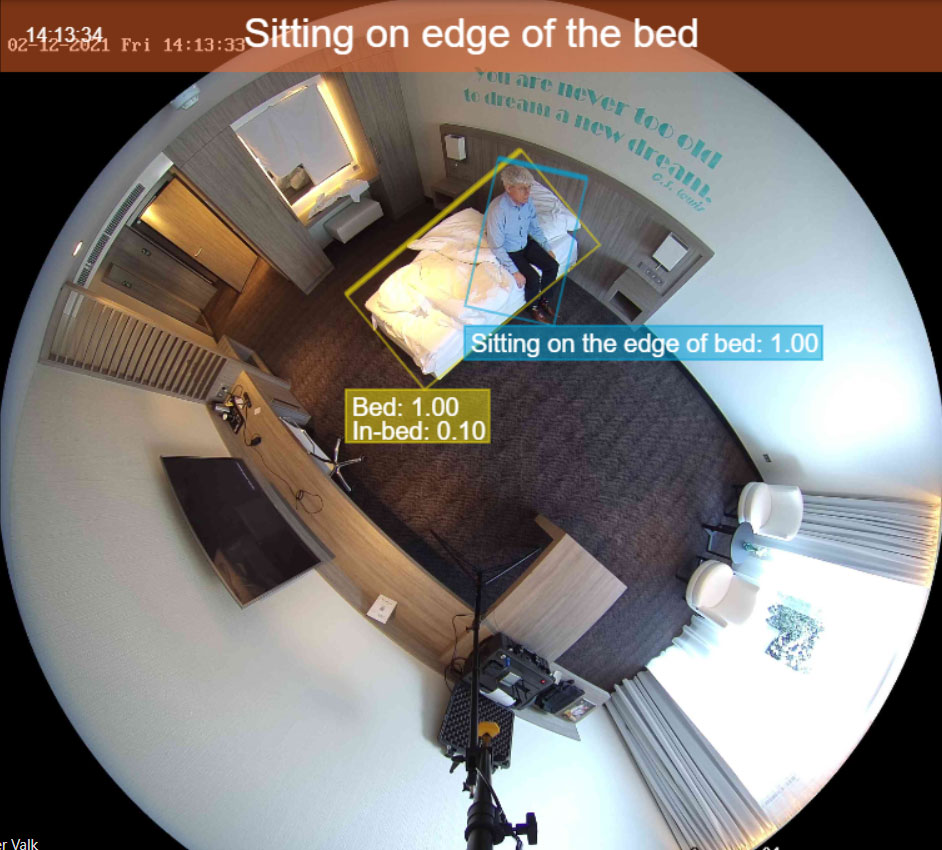 Kepler Night Nurse Features
The Night Nurse is tailored towards the specific needs of care homes. These features ensure that the system can outperform similar existing systems like mat sensors or panic buttons. These features are:
Works in all light conditions, day and night.
Works in all rooms.
Is 'hardware agnostic', as it can work with all cameras: color, infrared, monochrome and fisheye.
Improves safety and wellbeing.
Is possible to integrate with existing communication systems.
A dashboard with real-time insights for all clients can be made available.
Recognition
The first reaction to installing a camera in a client's room is often an anxious one. The caregivers are often afraid of being monitored, and that the innovative care software that looks into the room can check if they do things wrong. However, there are only a few things that the software can recognize:
For people, the Kepler Night Nurse recognizes sitting, lying and standing only. For example, if someone drinks a glass of water or reads a book, the software is unable to recognize it. The same applies to beds. The care software can link a person to a bed and see the difference between a bed and a couch. The software cannot see whether a gate is installed or if other means of restricting the clients' freedom are applied.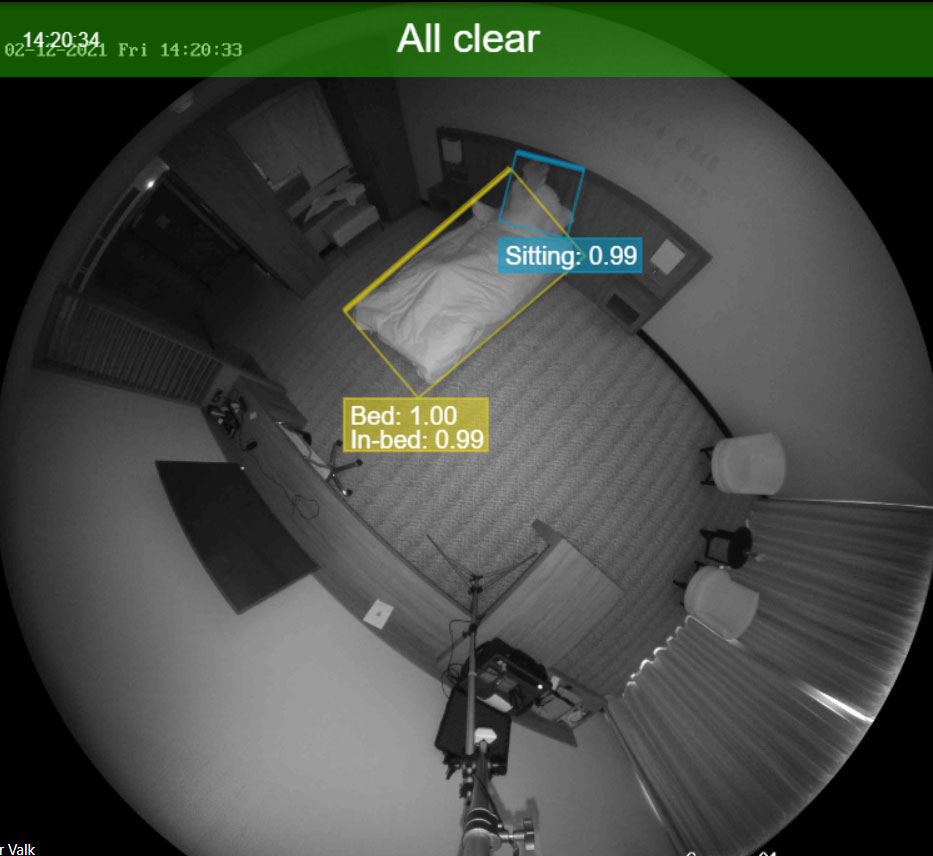 Fish eye camera in night vision mode